Holland & Barrett High Strength Complete Vit B Complex 120 Tablets
€6,45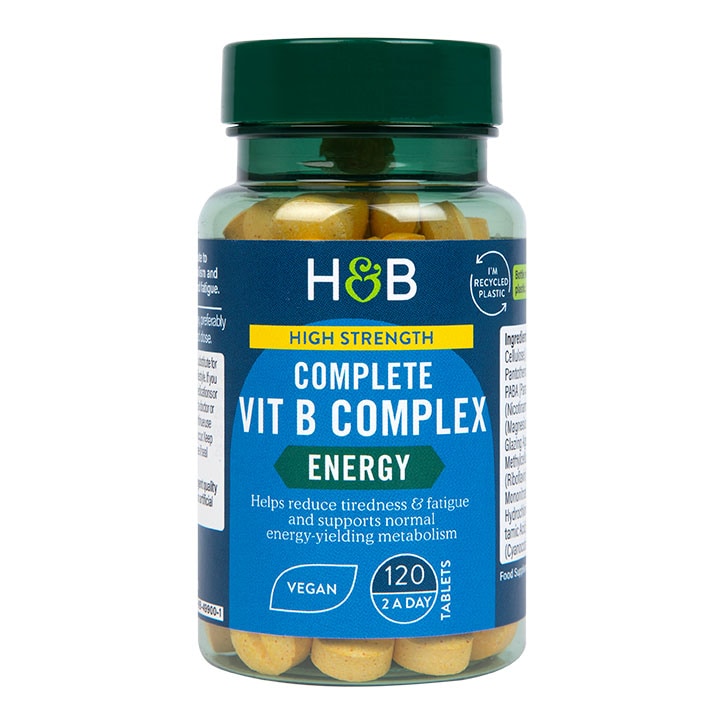 Description
Be your best self with vitamin B!
Sometimes if you're feeling and looking a little run down, you should treat it as an alarm bell from your body telling you that it is lacking in something.
Its many forms include thiamin (vitamin B1), riboflavin (vitamin B2), niacin (vitamin B3), pantothenic acid, vitamin B6, biotin (vitamin B7), folic acid, and vitamin B12.
What does biotin do?
Vitamin B7, also known as biotin supports the maintenance of normal hair, skin and the process of energy-yielding metabolism. You can reap the benefits of biotin by eating foods like almonds, cauliflower and eggs
What does folic acid do?
The benefits of folic acid (aka folate) are especially important for pregnant women and those wanting to conceive. It is strongly recommended that women take 400mcg of folic acid a day while they are pregnant until the 12th week to reduce the risk of the foetus developing birth defects like spina bifida.
It can also help to lower feelings of fatigue and tiredness, while helping to keep the immune system ticking along. You can find it in citrus fruits, beans, rice, bread and leafy green vegetables like kale and spinach.
What does vitamin B12 do?
Just like all the other B vitamins, vitamin B12 provides support for the body's energy-yielding metabolism, along with the nervous system, red blood cell production and normal psychological function. Satisfactory levels can also reduce feelings of tiredness and fatigue.
The benefits of B12 can be obtained through your diet by eating foods like eggs, fish, meat and dairy. Vegetarians and vegans should pay special attention and consider adding alternative sources of B12 into your diet such as; yeast extract products, plant-based dairy alternatives, fortified cereal and mock meats fortified with B12.
What does vitamin B6 do?
It contributes to normal function of the immune system and normal energy-yielding metabolism.
What does riboflavin do?
The benefits of riboflavin span from helping out your bodies metabolism to reducing feelings of fatigue and excessive tiredness.
What are the benefits of niacin?
The skin-friendly B vitamin, niacin helps to keep your skin looking and feeling great by maintaining normal mucous membranes
From energy levels to skin health, the vitamin B family has an array of benefits ready for you to take advantage of. So why not discover the benefits of B vitamins today!
Excellent source of B vitamins, including Thiamin (B1), Riboflavin (B2), Niacin (B3), Vitamins B6 & B12
Vitamin B supports normal energy yielding metabolism & contributes to the reduction of tiredness and fatigue
Suitable for vegetarians & vegans
Additional Info
Our promise to you:
Holland & Barrett products are subject to critically stringent quality assurance. Our commitment to quality is the highest in our industry to ensure the best quality nutritional supplements money can buy. You have our guarantee!
Directions:
Take two caplets daily, preferably with meals. Do not exceed stated dose.
Ingredients:
Stabiliser (Calcium Carbonate), Bulking Agents (Microcrystaline Cellulose, Dicalcium Phosphate) Choline Bitartrate, Inositol, Pantothenic Acid (as d-Calcium Pantothenate), Anti-Caking Agents (stearic Acid, Silicon Dioxide, Magnesium Stearate), Maltodextrin, PABA (ParaAminobenzoic Acid) Niacin (as Nicotinamide), Riboflavin (Vitamin B2), Vitamin B6 (as Pyridoxine Hydrochloride), Firming Agent (Povidone), Thiamine mononitrate, Glazing Agents (Hydroxypropyl Methylcellulose, Glycerine, Camauba Wax), Folic Acid, Biotin (as d-Biotin), Vitamin B12 (as Cyanocobalamin).
Free from:
No Artificial Colours, Flavours or Sweeteners. No Preservatives. No added Sugar or Salt. No Starch, No Milk, No Lactose, No Soya, No Gluten, No Wheat, No Yeast, No Fish, No Porcine.
Advisory information:
Food supplements must not be used as a substitute for a varied and balanced diet and a healthy lifestyle. If you are pregnant, breastfeeding, taking any medications or under medical supervision, please consult a doctor or healthcare professional before use. Discontinue use and consult a doctor if adverse reactions occur. Keep out of reach of children. Store in a cool, dry place. Do not use if seal under cap is broken or missing.
Remember:
We go to great efforts to ensure that the information on this page is accurate at the time that the page was last edited. As we are constantly reviewing and developing our products to meet our consumer needs, consumers, particularly those that suffer from allergies and intolerances, should always check product labelling, warnings, and directions provided with the product that is delivered, prior to use or consumption.
Nutritional Information
Two caplets contain: %NRV*
Thiamin (Vitamin B1)
10mg 909%
Riboflavin (Vitamin B2)
15mg 1,071%
Niacin
25mg NE 156%
Pantothenic Acid
100mg 1,667%
Vitamin B6
10mg 714%
Vitamin B12
25µg 1,000%
Folic Acid
400µg 200%
Biotin
100µg 200%
Choline Bitartrate
250mg **
Inositol
250mg **
PABA
50mg **
*NRV = Nutrient Reference Value**No NRV established
Free From

Vegan

Vegan